Our daily routine is arranged to offer a consistent order to our days, however, we gauge our day according to the children's needs, interests, and focus. It is our job to observe each child, daily, and focus on the needs of each individual and the group as a whole community. Here is an example of a day in the life of an OHM toddler class: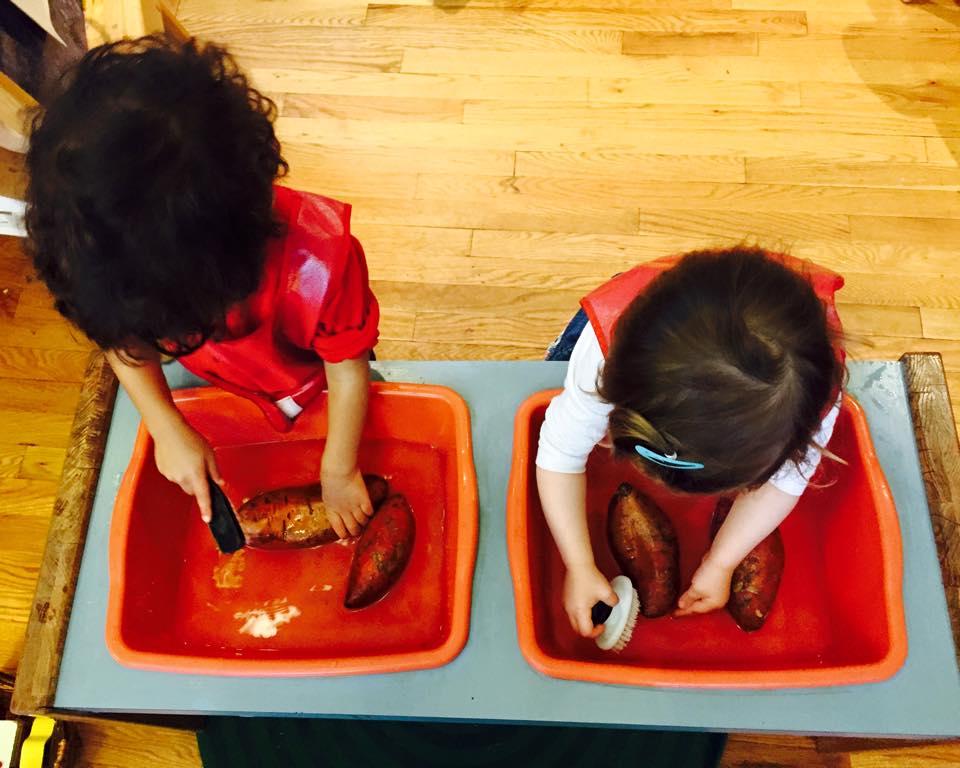 8:00 – 9:00: Children are dropped off, leaving their parents at the door and entering our environment.
8:00 – 11:00: Morning work period. This includes individual lessons, independent work selection, going outside for projects, self-serve snack and preparing our lunch.
11:00 – 11:30: Group meeting, circle time, daily discussions, celebrations of cultural events, books, and songs.
11:30: Family style lunch is served.
12:00: Nap routine begins. Kids get their own nap mats and prepare their area (and themselves) for rest.
12:15 – 2:30: Rest time.
2:30 – 3:00: Wake up routine begins. The children put away their nap mats and afternoon snack is prepared.
3 – 6: Afternoon work period. Activities vary; trips to playgrounds, museums, restaurants, cooking lessons, art projects, gardening and planting, mandarin games and activities
Our day can be categorized into three main segments:  Morning Work Period, Nap & Afternoon Work Period.   
Here is a summary of each segment along with our approach:
Morning Work Period
The morning work period is the focus of our program. As each child arrives at school, they head to the mud room to hang their jacket up, and change into their 'inside' shoes. This consistent routine assists them in their transition to the school community. After transition into the environment, the children are encouraged to independently find their own work. Allowing these opportunities for independence, gives them confidence and helps to strengthen their understanding that we respect and trust them. The adults are there to observe the children, give one on one lessons, and offer support when needed. The morning work period provides the children chances for sustained focus and independent, unassisted activities. All activities are self-correcting, available to all, and appropriate to the developmental needs. Work and activities are changed for each season, holidays, and cultural celebrations. Changing the work assures the children will continue to be inspired, challenged, and excited about trying something new.
Self-serve snack and water are available throughout each morning. Children can choose to sit at the snack table and enjoy a little meal with a friend. Snack activities are also opportunities for practical life activities. Some snack choices include dried fruits such as raisins, cranberries, banana chips, apricots, cherries; healthy cereals like Cheerios, Puffins, Chex, Cracklin' Oat Bran (this is their favorite snack of all time!); and fruit to wash, peel and cut such as clementines, bananas, pears, apples, grapes, and berries.

In addition to selecting Montessori work activities, the children also assist in preparing our lunch. For more info on lunch prep, please check out our dedicated lunch page
Our morning activities are guided by our observations of the needs and interests of the children. If they are focused on inside activities, we allow them to continue, and avoid interrupting their focus. If the group seems uninterested in working indoors, we will have a class meeting to discuss talking a walk around the neighborhood or engage in outside activities.
The morning concludes with a family style lunch, however before we eat, we gather together to discuss things of daily interest, talks of upcoming events, holidays, and diverse cultural celebrations. We sing songs, have group lessons, and have a moment of silence before our meal.
The children can help set the table, serve their friends, socialize, enjoy their meal, and help clean up after everyone has finished their lunch.
After lunch clean-up, children will begin their nap time routine.
Nap Time
Toddlers love routine and there is no better example of this than nap or bedtime rituals. Security and consistency are very important for a child to develop trust, which helps them learn to self-calm and to feel safe away from home. At naptime at Our House, we take things slowly. Each child knows and practices the routine of getting ready for nap. After lunch clean up, they help to set up their own nap mats, get their own blankets, use the toilet, and independently take off their shoes. It is a time to wind down with a quiet story time and then soft music is played while the children settle into sleep. It is a time to learn to fall asleep independently and to self-calm without the use of external props, such as pacifiers, bottles, or lovies. It is also a time to learn respect for others and their needs for sleep.
This rest time is extremely important and beneficial for all the children, every day, and it is a lovely time of peace and comfort for them, and helps to promote trust in the adults that care for them.
Afternoon Work Period
The Montessori philosophy continues throughout our afternoon activities. Because it can be a long day for little people, we strive to make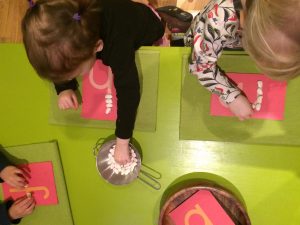 it as much like their home away from home as possible.

On any given afternoon, in any weather, you can find our small group taking a trip to the park, to the library, a museum, a restaurant, or just doing what children do best, exploring the world on a wandering walk. We learn through art, music, dance, movement, baking, yoga, and especially nature. We learn by experiencing our city and the people and cultures in our community.